Regular price
Sale price
€14,99 EUR
Unit price
per
Sale
Sold out
EYDLID TAPE for eyelid correction: The magical secret of large, beautiful, round eyes leads to an adhesive strip that naturally tightens the eyelid with an immediate effect and thus makes the drooping eyelid disappear. Also known as eyelid tape, slip eyelid tapes or eyelid stripes


WUNDERTAPEs are breathable, waterproof, transparent, make-up and convince with up to 24h hold. The beauty trick with eyelid tapes works effectively against drooping eyelids.


WITHOUT SURGERY: Anti-slip eyelid Stripes - Remove drooping eyelids without eyelid surgery, tape simply your slippery eyelid away through our drooping eyelid stripes! The eyelid tapes cause a natural eyelid tightening.



CONTENTS: Eyelid tape 240 pieces = 120 pairs of size M
Vegan & without animal testing

Our products are 100% vegan. We do not test on animals and develop our beauty products in accordance with legal guidelines.
Instant effect

Easy application in two steps: Clean the eyelid and place the tape on the eyelid. Complete!
Free Shipping

We take over the delivery costs worldwide!
customer satisfaction

Customer satisfaction is important to us. Contact us anytime at: hello@wundertape.com

We are happy to be there for you and advise you on all questions.
View full details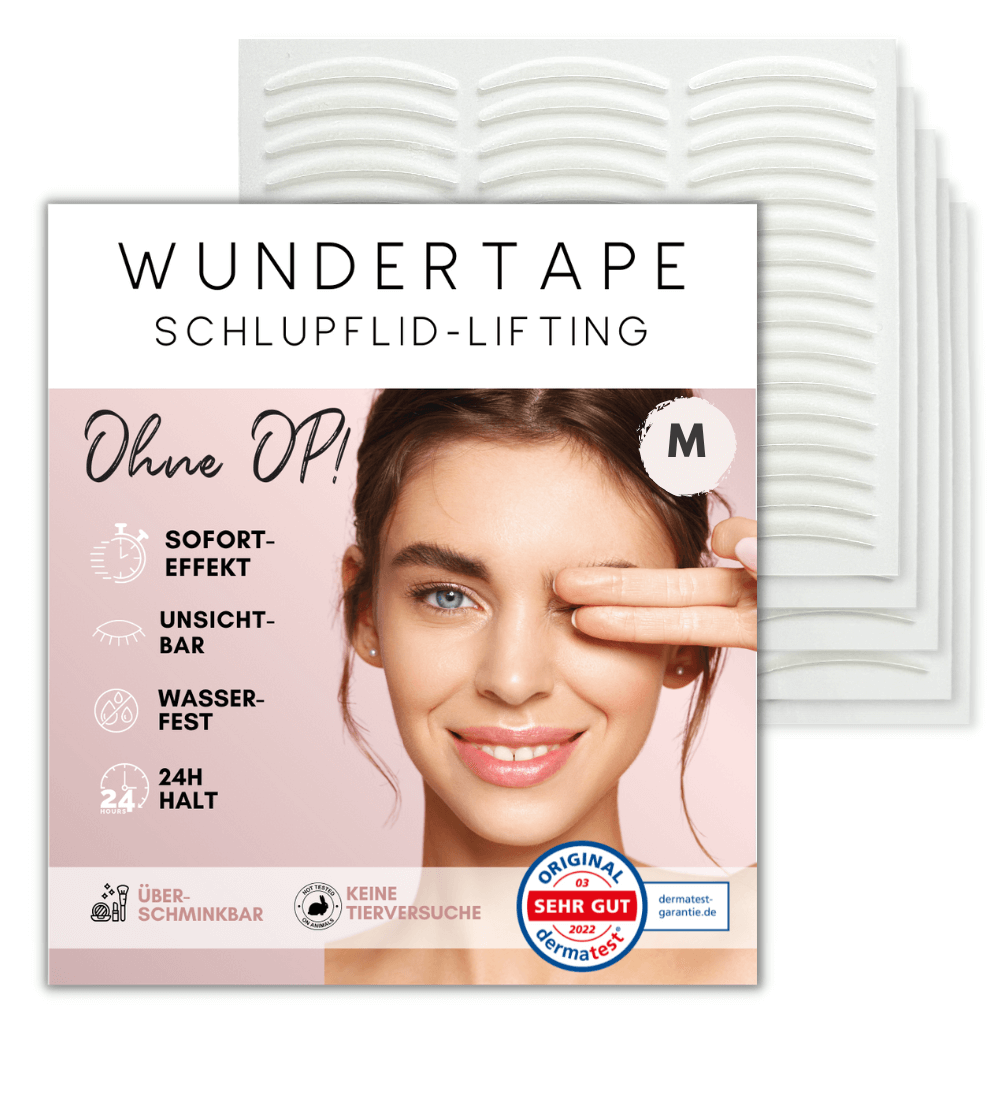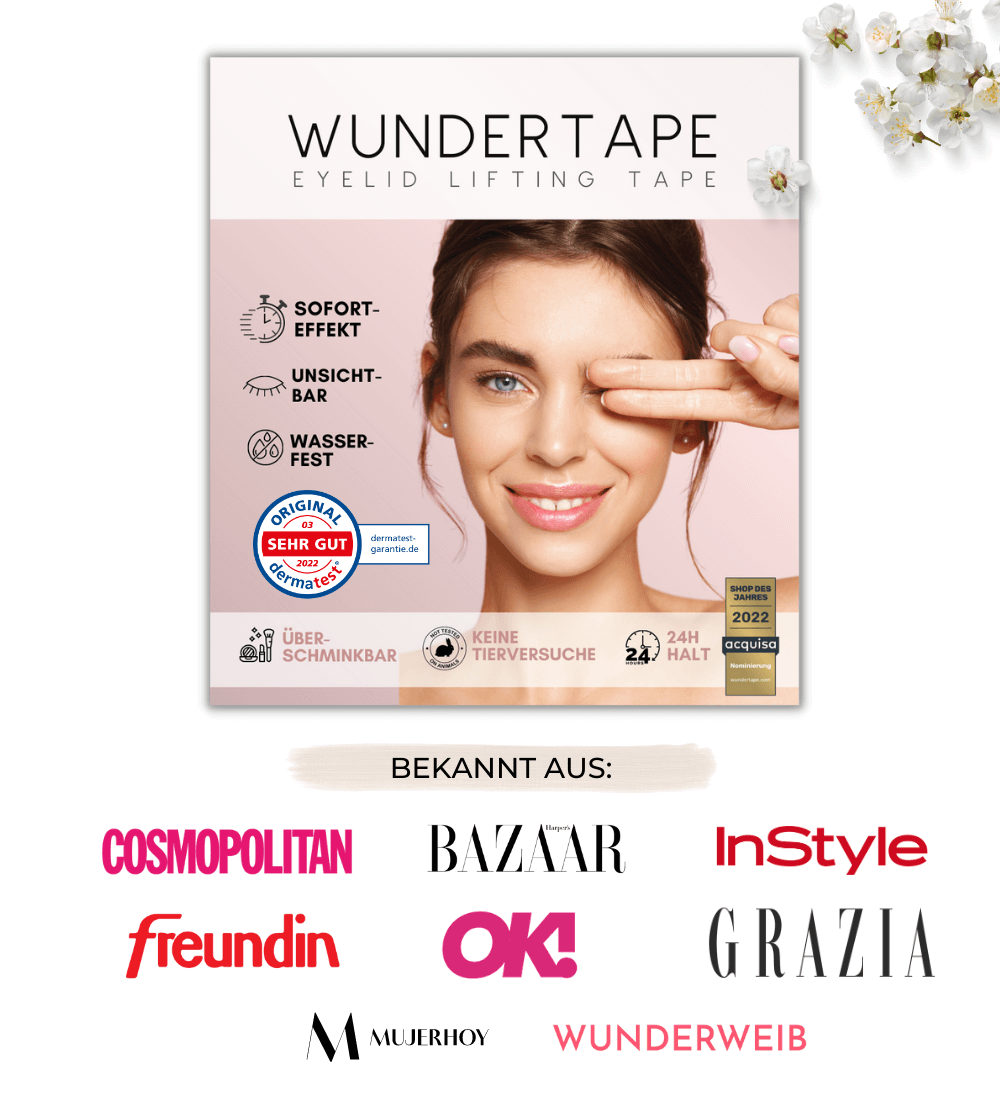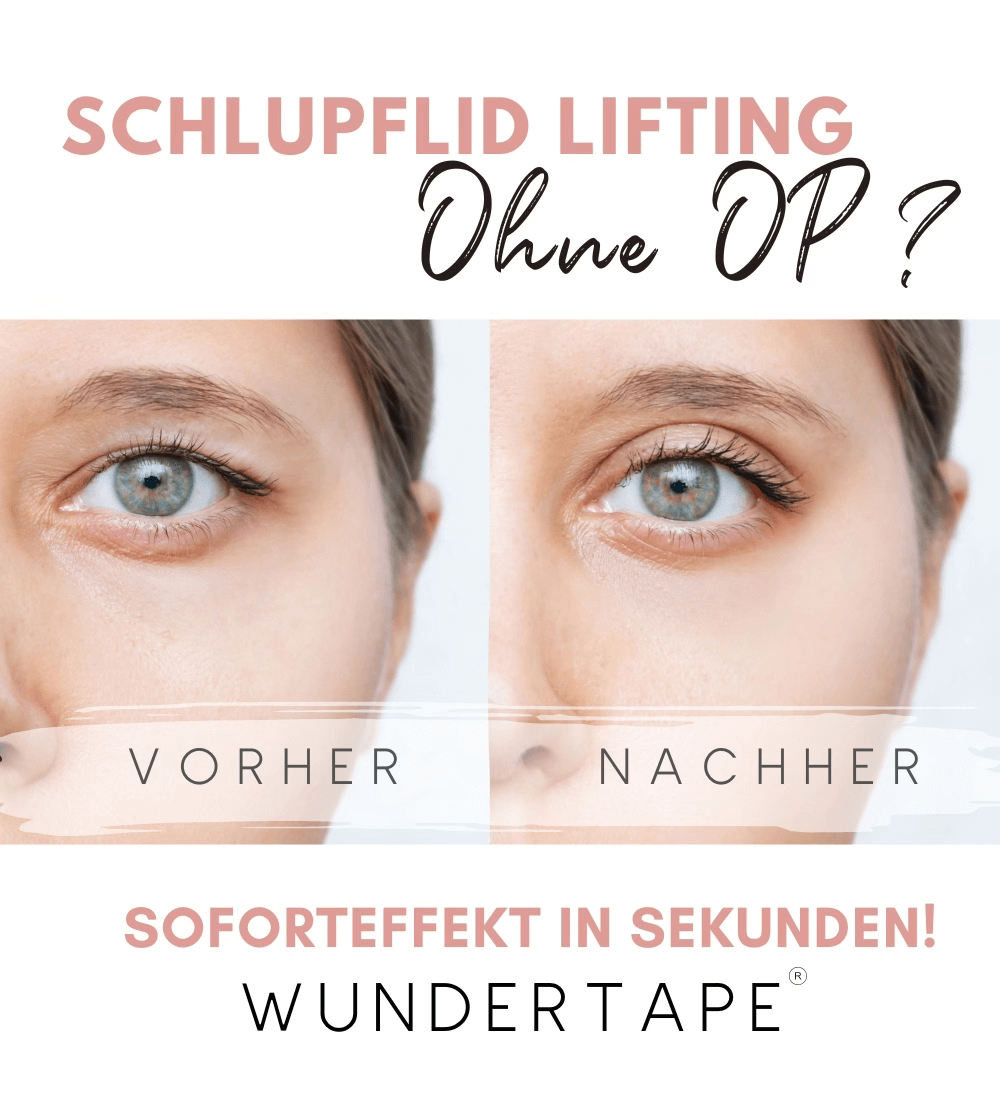 WONDER TAPE
Achieve the eyelid tightening effect in seconds without any surgical intervention.
Drooping eyelids can change the appearance of our eyes, making them look more tired and older than we feel. Our solution: WUNDERTAPE. Drooping eyelid lift without surgery!
Video: Wundertape Anwendung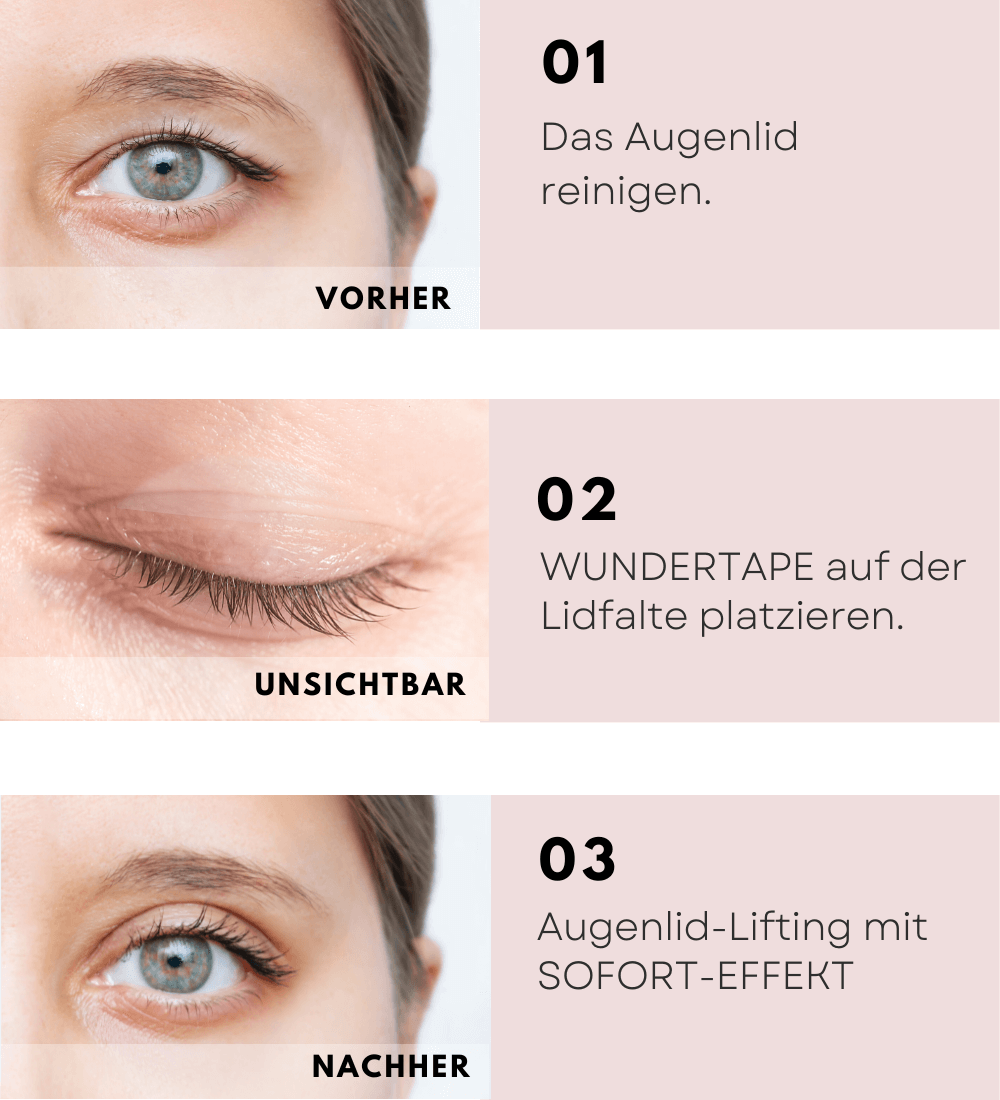 Eyelid lifting with IMMEDIATE effect. Without surgery!
Would you like to have a natural and fresh look every day without having to worry about makeup or expensive beauty treatments? WUNDERTAPE is the solution!
These stripes have been specially developed to give you a fresh, awake and younger look. In just a few seconds you can conceal the droopy eyelids and emphasize your natural beauty. WUNDERTAPE is incredibly easy to apply and offers a safe, convenient and permanent solution.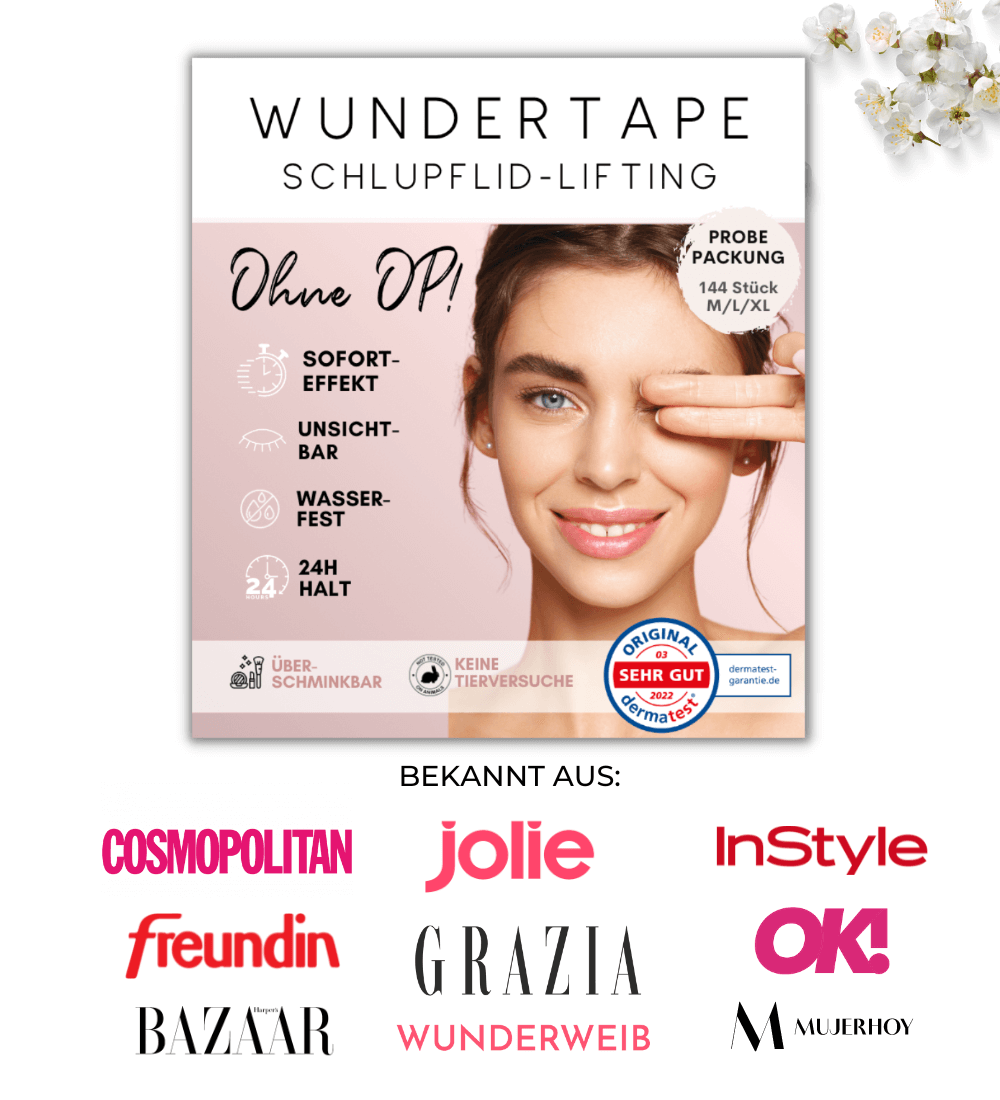 Visible effect in seconds!
"I've always had droopy eyelids and they've only gotten worse as I've gotten older. I've thought about eyelid lifts a lot, but when I tried these tapes I realized I don't necessarily need surgery to look younger and fresher."
- Anna, customer report
Press & international magazines

WUNDERTAPE is known from the press and international magazines.

Value for money

Comparison.org has awarded us as the price-performance winner for slip-on lid tapes.

store of the year

Wundertape was nominated for Shop of the Year 2022!

Payment options in the online shop
FAQ
Which stripes for droopy eyelids are the best?

The best strips for droopy eyelids can vary from person to person as it comes down to individual preferences and needs. Choosing the best strips also depends on the type and degree of drooping eyelids. However, WUNDERTAPE Drooping Eyelid Stripes are a popular option on the market as they offer high quality, transparent strips that are easy to apply and offer a natural look.
What is the best against droopy eyelids?

The best way to prevent droopy eyelids depends on your personal preferences and needs. There are different options:

Drooping Eyelid Stripes: These are a non-surgical solution and offer an instant effect by lifting the skin of the upper eyelid.
Surgical interventions: If the eyelids are severely drooping, a blepharoplasty (eyelid lift) can be considered, in which excess skin is removed.
Eye Exercises: Some people try to improve their drooping eyelids through targeted eye exercises, although the effectiveness is debatable.
Make-up: You can use clever eye make-up to conceal droopy eyelids.

The choice depends on your individual needs, budget and preferences.
How do droopy eyelid stripes work?

Drooping eyelid strips work by gently lifting the skin of the upper eyelid. They are made of transparent or skin-colored material and are coated with a skin-friendly adhesive. How it works includes:

Secure hold: The adhesive allows for secure adhesion to the skin.
Lifting of the skin: The strips are placed in the natural crease of the eyelid and lift the skin, making the crease more visible.
Enlargement of the eyes: This gives the eyes a more open and alert look.
Natural Appearance: High quality strips are thin and transparent to ensure a natural look.
LONG LASTING: They last all day without peeling or slipping.
How can I train my droopy eyelid?

Training droopy eyelids is possible, but requires patience and regular practice. Here are some exercises you can try:

Eyelid lifts: Close your eyes tightly and try lifting your eyelids against the resistance of your closed eyelids. Hold this for a few seconds and then relax.
Blinking: Blinking quickly and repeatedly can strengthen the muscles around the eyes.
Eye Roll: Gently roll your eyes in all directions to activate the muscles.

Keep in mind that the results of sagging eyelid exercises can vary and should be done regularly and over a period of time. Droopy eyelid strips or surgical options may be more effective solutions for immediate results.
How do I choose the right size and type of Drooping Eyelid Stripes?

Choosing the right size and type of eyelid strips depends on your individual needs and the shape of your eyes. It's wise to try different sizes and styles to see which one suits you best. Typically, manufacturers provide guidance on choosing the right size based on your natural crease.
How long do droopy eyelid stripes last?

The durability of Drooping Eyelid Stripes varies depending on the brand and quality. As a general rule, however, they should last all day without peeling or slipping. It is recommended to follow the manufacturer's instructions and carry spare strips if necessary in case an adjustment or renewal is required.
Can I combine drooping eyelid stripes with make-up?

Yes, Drooping Eyelid Stripes can easily be combined with make-up. After you have attached the strips, you can apply your eye make-up as usual. The stripes are thin and transparent so that they are hardly visible under make-up.
Are drooping eyelid stripes harmful to the skin?

High-quality drooping eyelid strips are usually skin-friendly and safe to use. They are designed not to damage the skin. Still, it's important to use the strips according to the manufacturer's instructions and remove them carefully to avoid skin irritation.

WUNDERTAPE has been tested by the independent institute Dermatest and the skin compatibility has been rated "very good".
Can I use Drooping Eyelid Stripes every day?

Yes, you can use Drooping Eyelid Stripes daily if you wish. They are designed to last all day and can be used when needed. The frequency of use depends on your personal preferences and needs.
Are there any alternatives to Drooping Eyelid Stripes?Answer:

Yes, there are alternative methods of treating drooping eyelids, including surgery such as blepharoplasty (eyelid surgery) or targeted eye exercises. Make-up can also be used to optically conceal droopy eyelids. The choice depends on your individual preferences and needs. However, eyelid strips are a convenient and non-invasive option that offers instant results.